New Patient Center
Welcome New Patients!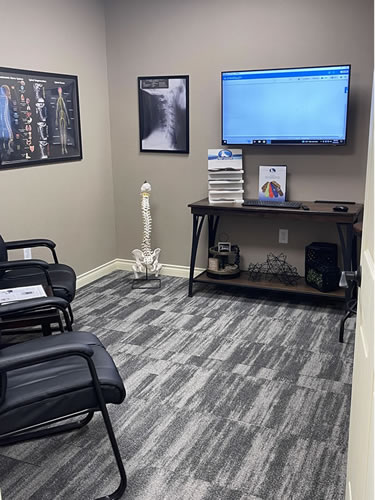 We're happy you're here and hope that we have the opportunity to meet you and your family soon. From the moment you walk into our practice, we hope you feel welcome. As we provide care for all ages, we even have a kids sticker station and play area where they have fun. When you choose us for your care, we truly put you first!
Your First Visit
Our new patient paperwork can be found here and filled out prior to your visit with us to help things run quicker. When you arrive, you'll be greeted by a staff member who will take your information. Next, we'll invite you back for a couple of scans and posture pictures. The scanning technology determines how much stress is on the nervous system and is vital in getting the best results from care. Because nervous system stress cannot always be felt, it allows our chiropractor to have an inside look of the stress on the nervous system. They will then review your health history and recommend X-rays are necessary after a detailed examination is performed. If you're in pain or not feeling well, we'll do everything we can to provide relief with an adjustment on this visit.
For children, we only perform tests and exams that are age appropriate.
To make sure you're feeling well after care with us, we always call our new patients to check in after their first adjustment to answer questions and to follow up with home care recommendations.
Your Second Visit
At your second appointment, your chiropractor will go over the results of all of your examination, scans and x-rays with you. As we're big on patient education, we encourage you to ask any questions that you may have—we're happy to answer them! We'll also discuss your health goals and what regular chiropractic care with us might look like.
We're always conscious of our patient's time, which is why we pride ourselves on limited waiting and hope to have you in and out in under 15 minutes for regular visits.

Schedule A Visit With Us
We'd love to help your family unlock their true health potential. To get started, contact our practice today. We're proud to offer patients free consultations and accept most insurance plans.
Learn more about what natural, safe and effective chiropractic care can do for your body. Contact us today!
CONTACT US »


New Patient Center | (605) 448-5050